Airtel's report card
MAY 16, 2021
This newsletter is a weekly in-depth analysis of tech and innovation in Africa that will serve as a post-pandemic guide.

Subscribe here

to get it directly in your inbox every Sunday at 3 pm WAT
What makes a company succeed? Product, team, market size and regulatory environment are familiar and correct answers.
What makes a succeeding company great? A certain proverb comes to mind: "If you want to go fast, go alone; if you want to go far, go together." Is this an African proverb? That's heavily contested, but it sure has value for African companies.
Market fragmentation is a common complaint on the continent. But as experienced companies like Safaricom demonstrate, one way to work around the problem is to land giant partnerships. More on that in a moment, after this message from our partner.
The Flutterwave Mobile app, the app that turns any smartphone into a mobile POS is now redefining commerce. The Flutterwave Mobile App makes it super convenient for anyone to take their business with them anywhere, anytime. Learn how you can take your business anywhere, anytime

here.
Going beyond

Last week, Bloomberg reported that Safaricom, Kenya's biggest telecoms provider, plans to integrate M-Pesa as a payment option on Amazon.
It could make it easier for Amazon customers in Kenya to shop and ship goods using mobile money. But there are two other motives; recovery from 2020 and expansion beyond Africa.
Safaricom's full year financial results showed a 9.9% year-on-year increase in customers that are active for at least one month; the company now has 31.5 million customers.
But annual profit declined for the first time in a decade and M-Pesa, which accounts for 33.0% of Safaricom's revenue, wobbled.
Safaricom's profit after tax for the 12 months up to March 31, 2021 reduced by 6.8% – from 73.66 billion shillings to 68.67 billion shillings ($642 million).
One month active M-Pesa customers grew 13.6% to 28.31 million but Mpesa revenue declined 2.1% over the same period.
The company resumed charging for transfers in the second half of 2020, causing an upward curve. Total M-Pesa transaction value grew 58.2%. Volume of transactions grew 29.8%.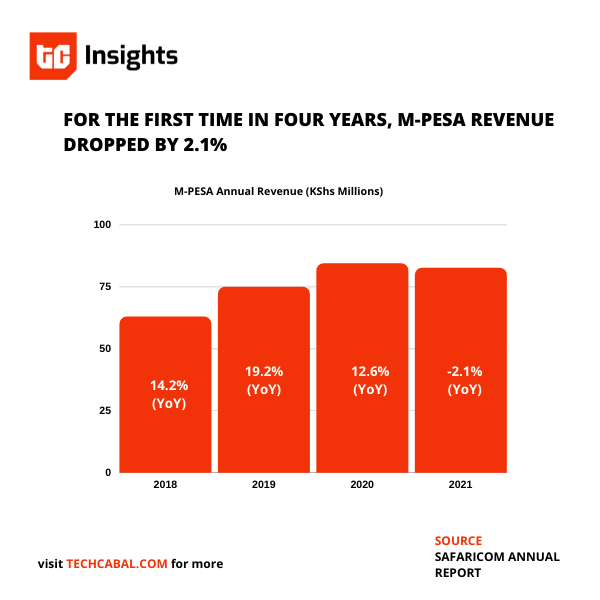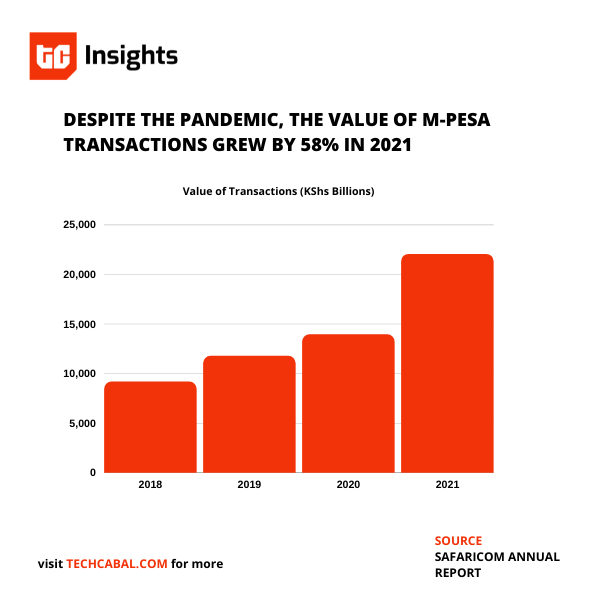 Olanrewaju Odunowo/TC Insights
Overall, M-Pesa showed resilience in a tough year, proving itself a mainstay of the financial system in Kenya. Number of M-Pesa agents grew 43.1% to 247,869.
To shore up its future, it is only wise that Safaricom plots more use cases to increase M-Pesa's volume and value. Better still if these cases involve international transactions that increase the product's global visibility.
Enter Amazon, the world's largest online retailer.
African fintechs need partnerships with larger players to achieve whatever global ambitions they have.
In Nigeria, for example, Flutterwave has a partnership with Worldpay for online card payments and with Alipay. Last December, MFS Africa added Xoom, Paypal's money remittance service, to its network of international money transfer partners.
Whether for better customer satisfaction in the short term or as a long-term expansion strategy, cross-border partnership is an ultimate fintech growth hack.
[ Read: How fintech startups can expand their market size through partnerships ]
If it happens, Amazon will be the second major online retailer partnership Safaricom secures to increase M-Pesa's usage between Africa and the rest of the world. In 2019, Safaricom entered a deal with Alibaba to allow shoppers to buy goods on AliExpress using M-Pesa.
A recurring M-Pesa criticism is that it remains an East African mobile money product. It failed in South Africa and isn't available in Nigeria, thereby missing out on the continent's other big markets.
But big partnerships further Safaricom's long-term plans; to lock local consumers in,
bolster foreign reputation
, and position M-Pesa as the one-Africa alternative to solutions from different banks and fintechs. Who's betting against them?

Tech-Talents: Sterling Bank is searching for the elite few!
A
irtel Africa's revenue increased by 14.2% to $3.8 billion for the financial year ended March 31, 2021. The company posted net profits of $415 million, a slight growth of 1.8% from the previous year where it made $408 million in profits after tax. Get the rest of Airtel Africa's report highlights here.
Meet Damilola Onanuga, Funfere Koroye and Omafume Niemogha, the team that wants to turn gas cylinders into connected devices in Nigeria. Their startup is called Nupe Energy; you should find out why they just raised a seven-figure sum and what their growth strategy is.
A startup bill for Nigeria is being discussed between founders, investors and government representatives. A first draft could be ready by August 2021, according to a timeline shared by the organising group at a virtual townhall this month. I have the gist here.

Thank you for reading the Next Wave today. Keep safe when you are out in public places – protect others by wearing your mask and sanitizing your hands.
Subscribe to our TC Daily Newsletter to receive all the technology and business stories you need each weekday at 7 AM (WAT).
Follow TechCabal on Twitter, Instagram, Facebook, and LinkedIn to stay engaged in our real-time conversations on tech and innovation in Africa.
– Alexander O. Onukwue, Staff Writer, TechCabal
Sign up for The Next Wave
by TechCabal
This is a Test Email only.

This message was sent for the sole purpose of testing a draft message.

Get the best African tech newsletters in your inbox