In partnership with
Happy pre-Friday ☀️
If you're taking a course on Google Digital Skills for Africa, you have until July 24 to complete the course.
Yesterday, Google announced to users that it's moving the course to a new learning platform called Skillshop. This means any progress you have will be lost unless you've completed the course. If you're yet to start a course though, worry not, Google says all the courses—and more—will be available on Skillshop.
Fintech adoption fuels Nigerian bank's revenue growth in Q1 2023
Nigerian banks report remarkable revenue growth in Q1 2023, with ₦96.483 billion ($122,694,806) generated from electronic businesses.
The remarkable growth is attributed to the increasing adoption of fintech solutions, resulting in a significant 23.84% increase, compared to the ₦77.907 billion ($99,010,408) recorded in the previous quarter in 2022.
Image source: Tenor
Top performing banks: PerNairametrics, UBA and Access Holdings emerged as the leading earners in e-business income, with UBA reporting ₦20.929 billion ($26,651,725) and Access Holdings earning ₦20.664 billion ($26,302,782). Zenith Bank, FirstBank, and GTBank followed closely behind with ₦12.079 billion ($15,379,970), ₦17.876 billion ($22,761,747), and ₦11.425 billion ($14,548,745), respectively.
UBA, Access Bank, and Zenith Bank—two of the top tier-1 banks—played a pivotal role in propelling e-business income, accounting for 86% of the total generated in Q1 2023.
More good news: In addition to the growth in e-business income, Nigerian banks witnessed a robust pretax profit of ₦446.722 billion($568,370,982) in Q1 2023, marking a significant 41.16% surge compared to the corresponding period in 2022.
Zoom out: As more people use fintech to access financial services, banks are witnessing a corresponding surge in revenue. The positive trend observed reflects Nigerian banks' ability to adapt to evolving customer demands and their readiness to leverage the expanding digital economy.
You'll be in good company
Moniepoint has made it simple for your business to access payments while providing access to credit and other business tools.
Open an account today on moniepoint.com/ng.
MTN to produce independent power in South Africa
Image source: MTN
MTN wants to take power into its own hands.
MTN South Africa is aiming to become an independent power producer. The telecom wants to rely less on the state-owned power distributor Eskom which has been experiencing terrible load-shedding all year.
How? The company plans to use five different technologies for energy generation within a single facility. The total capacity will be 4.5 megawatts, ensuring uninterrupted power supply even during load-shedding situations. The energy generation systems will be the first of their kind in South Africa, and it will be situated at MTN's head office in Johannesburg.
The head office currently features a hybrid facility comprising three energy systems: a 2-megawatt gas trigeneration system, a 330-kilowatt Concentrating Solar Power (CSP) Plant, and backup diesel generators. Additionally, MTN plans to expand the existing plant by adding a 4-megawatt Grid Tie Solar System (5-megawatt peak) and a 2-megawatt/6-megawatt-hour Battery Energy Storage System (BESS).
Zoom out: During Phase 2 of the project, there will be additional expansion of solar and battery energy systems, creating the potential to supply excess energy back to the power grid.
inDrive now licensed for ride-hailing in Kenya
Image source: inDrive
inDrive, an online ride-hailing application, has obtained the necessary licences to operate within Kenya.
At a time when drivers from taxi companies like Uber and Bolt are advocating for increased fares and improved commissions, inDrive is entering the mobility market, giving riders and passengers a fare deal.
What inDrive does differently: inDrive gives its customers power to bargain and accept the prices they can afford. It also allows drivers to accept, counter, or decline offers without facing penalties or charges.
inDrive charges the drivers a maximum of 9.99% of the total cost, excluding any applicable value added tax (VAT). This fee is inDrive's service charge for connecting the driver to the customer/rider.
Zoom out: Based in Carlifonia, inDrive has gained global popularity, with over 150 million downloads, positioning itself as the second most downloaded mobility app worldwide.
SA's identification bill a recipe for disaster, says think tank
South African think tank Free Market Foundation has warned that the proposed Identification Bill could result in privacy breaches and poses a threat to South Africans' right to privacy.
The South African parliament intends to repeal the Identification Act of 1997 and has published a draft National Identification Registration Bill to replace it.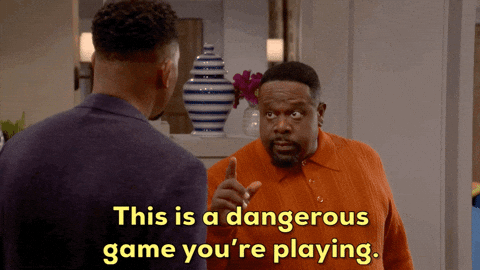 Image source: Giphy
More on the new bill: Through the bill, the recording of identification information of everyone living in South Africa, whether temporarily or permanently, will be done on a "secure and efficient digital system".
The protection of data is assured, according to the bill, as is the privacy of personal information of individuals and the protection of national security interests, to ensure the official identification of individuals, prevent identity fraud and avert fraudulent transactions.
The Free Market Foundation, however, has warned that the draft legislation poses a threat to South Africans' right to privacy.
Zoom out: If South Africa's cybersecurity record is anything to go by, then there is reason to be concerned about possible breaches of data. Over the last year, several companies in the country, including Shoprite, Showmax, and even government departments, have been hit by data breaches.
Refer TC Daily and win great prizes
Refer TC Daily and win great prizes. Not only do you get rewarded for your referrals, but you also automatically earn an entry into the grand prize draw at the end of the month. And what's the grand prize, you ask? A blissful massage session that will melt away all your stress and leave you feeling rejuvenated! Scroll to the end and start sharing your unique referral link today.
The World Wide Web3
Source:
| Coin Name | Current Value | Day | Month |
| --- | --- | --- | --- |
| Bitcoin | $30,198 | – 1.69% | + 9.27% |
| Ether | $1,847 | – 2.73% | – 0.41% |
| BNB | $233 | + 0.30% | – 24.82% |
| Solana | $16.26 | – 2.85% | – 20.71% |
* Data as of 20:00 PM WAT, June 28, 2023.
The Moonshot Conference
This is Moonshot by TechCabal.
Moonshot is a conference that will bring together Africa's tech ecosystem to network, collaborate, share insights and celebrate innovation on the continent.
Click here to join the waiting list to get more news and updates about this conference.
Want more of TechCabal? Sign up for our insightful newsletters on the business and economy of tech in Africa.
P:S If you're often missing TC Daily in your inbox, check your Promotions folder and move any edition of TC Daily from "Promotions" to your "Main" or "Primary" folder and TC Daily will always come to you.
ADVERTISE
To advertise with us send an email to