A rare female tech CEO
JUNE 6, 2021
This newsletter is a weekly in-depth analysis of tech and innovation in Africa that will serve as a post-pandemic guide.

Subscribe here

to get it directly in your inbox every Sunday at 3 pm WAT
When a partial or total internet shutdown happens in Zimbabwe, Cameroon or Uganda, we Nigerians take a moment to sympathize with those countries, before quickly returning to our business.
We tweet "Solidarity! We are with you!" pitying those citizens for being stuck in dictatorships, without really knowing how it feels to live in their situation.
Now we know a little and I've got to say it sucks doesn't feel good.
Twitter has now been officially unavailable in Nigeria for 24 hours, following a government decree on Friday. The government plans to arrest violators of the ban. But as we will briefly explore, being able to tweet is the least problem on the pyramid of distress from this shutdown.
The Flutterwave Mobile app, the app that turns any smartphone into a mobile POS is now redefining commerce. The Flutterwave Mobile App makes it super convenient for anyone to take their business with them anywhere, anytime. Learn how you can take your business anywhere, anytime

here.
Digital regression
Twitter and other social media platforms are good because they are easy, fun mediums for travelling the world virtually.
Similar to reading a book, being on social media expands our view of how other ordinary people in the world are living. Not through gatekeepers like radio or television but directly from those ordinary people.
A ton of unpleasant, hateful things happen online. Nearly every platform produces bad outcomes by design. But books can be sources of "evil" too. Yet the world has moved on from book burning.
Beyond leisure and global connection, social media has been particularly useful for civic engagement in Africa. US and European activists and policymakers rail against Facebook, for many good reasons, but social media has emboldened Africans to ask pressing questions of historically opaque and hostile governments.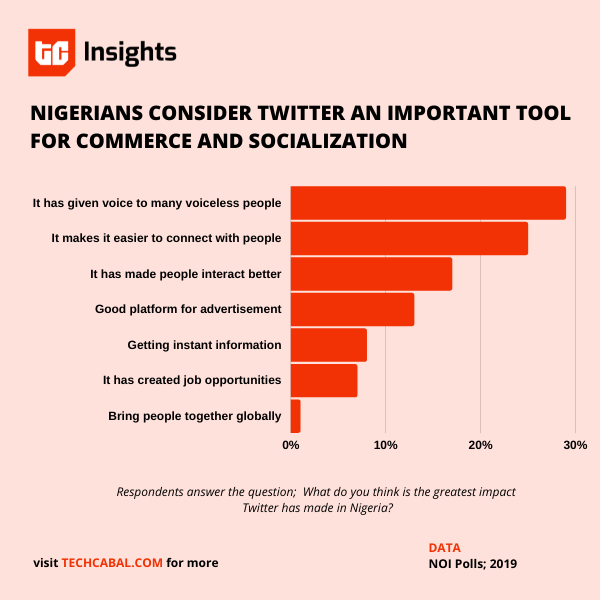 Olanrewaju Odunowo/TC Insights
Which is why I complained last year when a Netflix documentary (which featured no African) called for abolishing social media everywhere:
"Somewhere in an African state house – I suspect Entebbe – a government adviser watched The Social Dilemma and leaped for joy."
[ Read: Netflix's "The Social Dilemma" is not tailored for Africa's internet reality ]
I should have suspected Abuja too.
That documentary came out in September 2020. By October, Nigerians organized #EndSARS by using Twitter to raise awareness and pool resources. At the time, Nigeria's president complained of "the spreading of deliberate falsehood and misinformation through the social media in particular."
Eight months later, Twitter deletes the president's tweet for threatening violence. The government combines this with grievances about Twitter's indirect role in empowering #EndSARS, ordering internet service providers to ban Twitter indefinitely.
A pyramid of distress
Nigerians still tweet (thanks VPNs). On a Saturday morning Twitter Space, someone said he was still able to run an ad campaign.
In fact, the ban is a suppression of government criticism, accountability and dissent. These things are not supposed to happen in a democracy, much less a country that wants to grow a digital economy.
[ Read: Twitter ban rewinds Nigeria to pre-internet darkness and reign of fear ]
But it's happening and curious plans are in store for internet-enabled platforms in general – WhatsApp, YouTube and maybe even Netflix. But from the Twitter ban alone, at least three concerns are playing out:
Stifling social services: Twitter is a mainstream SOS platform in Nigeria. The Police relies on it, as does the Nigeria Centre for Disease Control which has gained over 1 million followers since COVID-19 broke out last year (they have tweeted after the ban). With Nigeria's crippled healthcare and education, social media lends traction to the many GoFundMe's standing between salvation and death.
[ Read: Federal Ministry of GoFundMe ]
Commercial constraints: Developers who use Twitter APIs are mad at this ban. Digital marketers who rely on brands for marketing gigs are feeling blue, as are startups who leverage Twitter to run lean customer service and dispute resolution. Those startups' investors are already asking questions about security.
But the most painful distress is increased Despair and Loss of faith.
In search of predictability and peace of mind, more talent could trade Nigeria for Canada and Europe. For those who remain, arbitrary militaristic bans increase anxiety and tendency for hopelessness.
A people without hope, without a reliable expectation of the future, can hardly build a prosperous nation. That is Nigeria's challenge. Is this big picture obvious to the architects of this ban?
Lori, one of Africa's big logistics tech startups announced Uche Ogboi as its new CEO. She will be one of a handful of female tech CEOs in Africa, but that's not the only reason
I'm asking you to pay attention to her.
Speaking of women in tech, have you met the team behind Rising Tide Africa?
Bright Azuh spoke to the founders
about their mission to help African women build diversified portfolios.
If you have been following African startup funding stories, you'd know Egypt has been coming up a lot. Like, nearly every week at this point. Of the VC firms sponsoring those moves, Sawari Ventures has stood out. To answer your questions,
Daniel Adeymi put them on our Ask An Investor spotlight.
TC Insights
Hashtags for the voiceless
On the first day of the year 2012, Nigerians woke up to the news that fuel subsidy had been removed. The official price of petrol had gone up by 116%. The next day, Twitter users voiced their displeasures using the #OccupyNigeria hashtag as a rallying point.
This online advocacy spilled onto the streets and a movement was born.
Online advocacy via Twitter has become a very powerful tool for holding the government accountable in Nigeria. They've generally helped grab the government's attention in a democratic nation where dissent and criticism are seen as disloyal and met with force.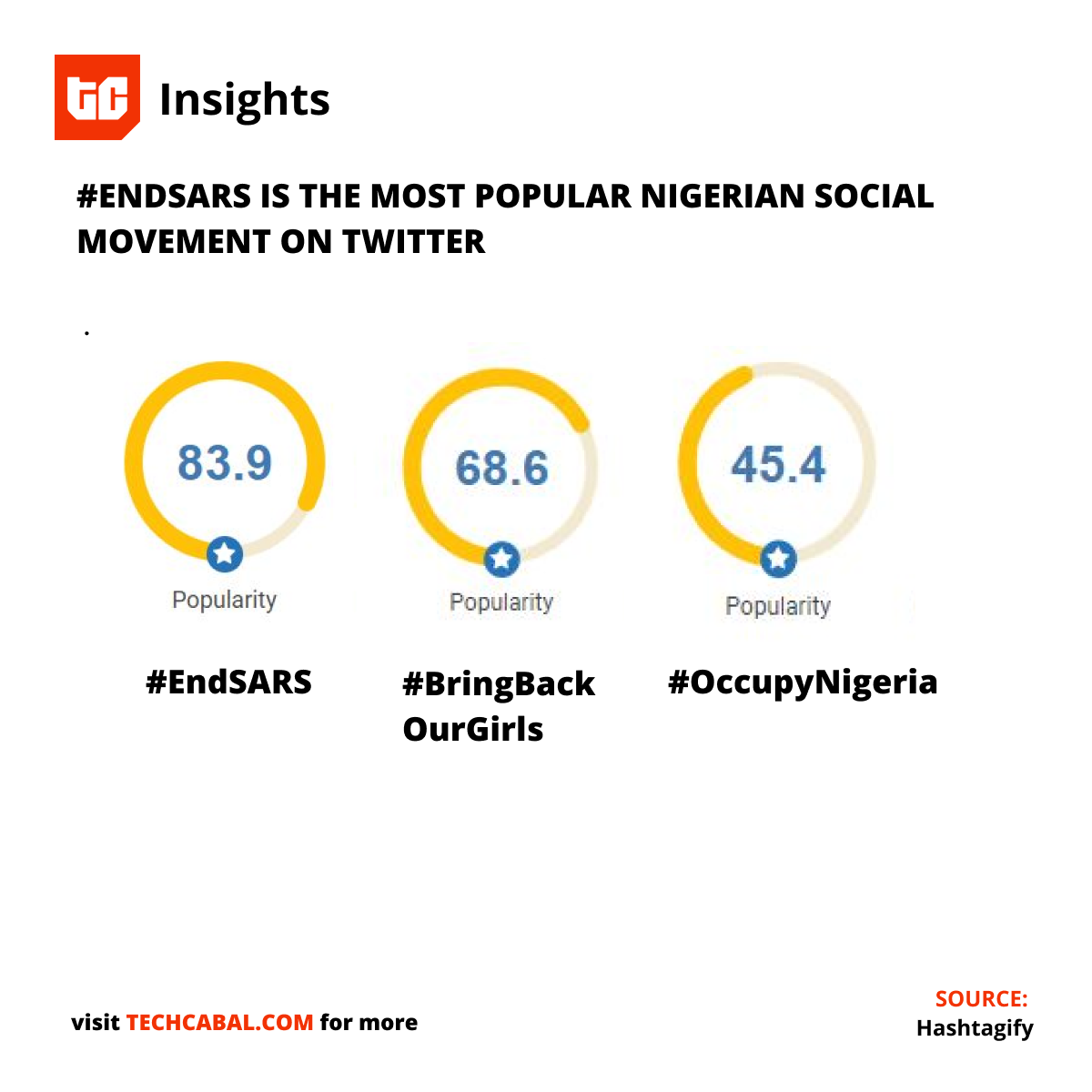 Mobolaji Adebayo/TC Insights
In the case of #OccupyNigeria, the combined efforts of the protesters – offline and online – disrupted economic activities across the country. In the end, the government reduced fuel prices by 30%.
On April 14th, 2014, another tragedy happened and a Twitter hashtag proved once again useful for getting the government to act. Over 200 schoolgirls were kidnapped from a school in Chibok, in northeast Nigeria. With the government taking too long to respond, #BringBackOurGirls, arguably the most popular trend of all time on Twitter in Nigeria, was born.
Shortly after, the online protests went offline around the world. World leaders, celebrities and international organisations joined the campaign. 107 of the missing girls have been found.
Around that time, the major opposition party APC had begun harnessing the power of social media, particularly Twitter to gain support for its campaign. It proved instrumental in their success at the general elections.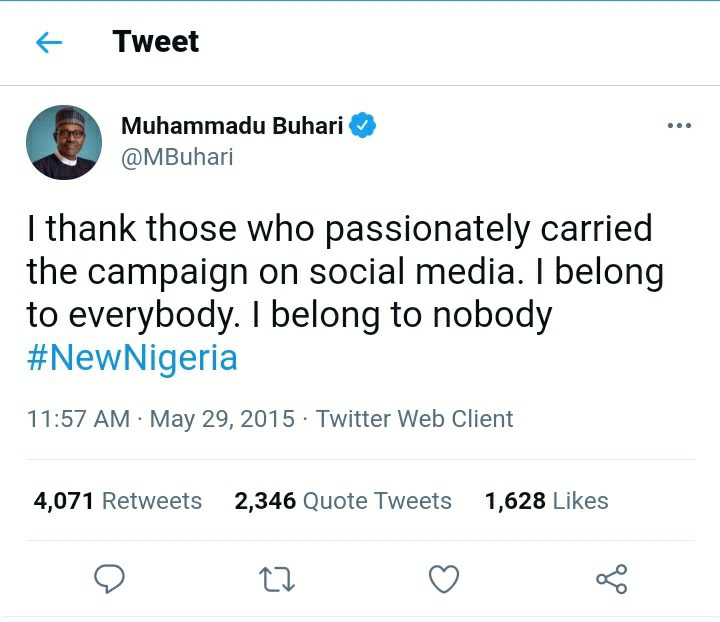 A tweet by Nigeria President Muhammadu Buhari on his first day in office
Two years later with the new government sworn in, cases of brutality, extortion, and unlawful arrest of citizens by officers of the Special Anti Robbery Squad (SARS) of the Nigerian Police Force increased.
Tweets calling for a ban of the unit gave birth to #EndSARS. The government signed a number of bills to end the brutality following offline protests.
But the #EndSARS hashtag resurge in October 2020. Young people jumped on the trend and it played a key role in crowdfunding, venue coordination, and media coverage. Again, a Nigerian hashtag became a major global story.

While rumours of the government shutting down the internet at that time never happened, that is now a reality, at least partially.

However, this has not deterred young people from demanding better governance and accountability. Armed with VPNs, young people have been making their voices heard. The new hashtag? #KeepItOn.
Written by Mobolaji Adebayo
Thank you for reading the Next Wave today. Keep safe when you are out in public places – protect others by wearing your mask and sanitizing your hands.
Subscribe to our TC Daily Newsletter to receive all the technology and business stories you need each weekday at 7 AM (WAT).
Follow TechCabal on Twitter, Instagram, Facebook, and LinkedIn to stay engaged in our real-time conversations on tech and innovation in Africa.
– Alexander O. Onukwue, Staff Writer, TechCabal
Sign up for The Next Wave
by TechCabal
This is a Test Email only.

This message was sent for the sole purpose of testing a draft message.

Get the best African tech newsletters in your inbox