Another unicorn-in-waiting?
JUNE 20, 2021
This newsletter is a weekly in-depth analysis of tech and innovation in Africa that will serve as a post-pandemic guide.

Subscribe here

to get it directly in your inbox every Sunday at 3 pm WAT
What do you remember about the Abuja Declaration of April 2001? Let's rewind.
Lodged in the Nigerian capital for three days, African presidents discussed ways to combat tuberculosis and – especially – HIV/AIDS. Indeed in the 90's, 90% of people living with HIV/AIDS lived in Sub-Saharan Africa. The leaders said they were:
"…fully convinced that containing and reversing the HIV/AIDS epidemic, tuberculosis and other infectious diseases should constitute our top priority for the first quarter of the 21st Century."
So they made a major decision: moving forward, every African country would allocate 15% of its annual budget to healthcare.
Sadly, this historic pledge has not been fulfilled, which raises the question: who is taking care of healthcare in Africa?
The Flutterwave Mobile app, the app that turns any smartphone into a mobile POS is now redefining commerce. The Flutterwave Mobile App makes it super convenient for anyone to take their business with them anywhere, anytime. Learn how you can take your business anywhere, anytime

here.
Two unhealthy decades later

Only Rwanda, Botswana and Zambia have budgeted over 15% to health in the last two decades. In Nigeria, budget allocation for healthcare was 4.15% and 3.91% in 2017 and 2018 respectively, as data by TechCabal Insights shows.

With governments' poor performance, the burden of funding African healthcare has largely fallen on the shoulders of the private sector, which accounts for nearly 60% of financing. The continent relies on private providers for nearly 50% of its healthcare needs.
East and Southern Africa remain the regions most affected by HIV in the world. But as other diseases like Ebola and COVID-19 have shown, Africa's healthcare concerns are systemic, broad and in need of huge capital injection.
Africa has an estimated $66 billion-a-year health financing gap and in the absence of serious government efforts, donors and the private sector have come through.
From 2019 to 2020, the value of PE and VC investments in African healthcare increased from 3% to 16% of total investments in the continent, according to the African Private Equity and Venture Capital Association (AVCA).
Between 2015 and 2020, 97 private equity and venture capital fund investments worth $1.3bn were made in health care in Africa. Most healthcare deals in that period happened in Nigeria (15%), Morocco (11%), Egypt (10%), South Africa (8%) and Ghana (8%).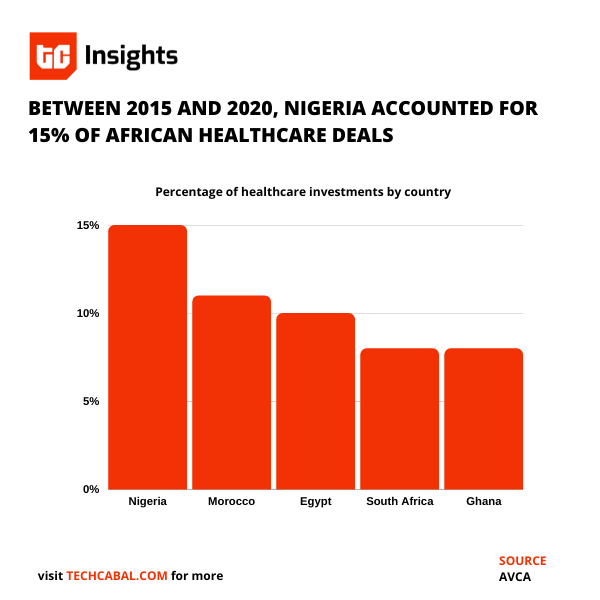 Boluwatife Sanwo/TC Insights
Health care, as an investment sector, can be narrowed down to a number of segments, according to the GICS classification system: Equipment & Supplies, Providers & Services, Technology, Biotechnology, Pharmaceuticals, and Life Sciences Tools & Services.
And health technology (healthtech) has received the most attention recently in Africa.
Between 2015 and 2020, AVCA estimates that healthtech accounted for 35% of health care investments in Africa. In 2020 alone, healthtech was the bright star too – gulping 45% of health care investments.
One of the more eye-catching healthcare companies is mPharma. The Ghana-based startup is now present in 7 other countries and has raised over $40 million. It became a crucial partner in the Ghanaian government's vaccine distribution strategy this year and is tipped as one of Africa's next big companies..
Other breakout healthcare startups in Africa include LifeBank, Helium Health and 54Gene in Nigeria, Ilara Health in Kenya, and Healthlane in Cameroon.
These startups are filling critical gaps in blood products logistics, genetics data and hospital management technology to improve service delivery. More are coming on board.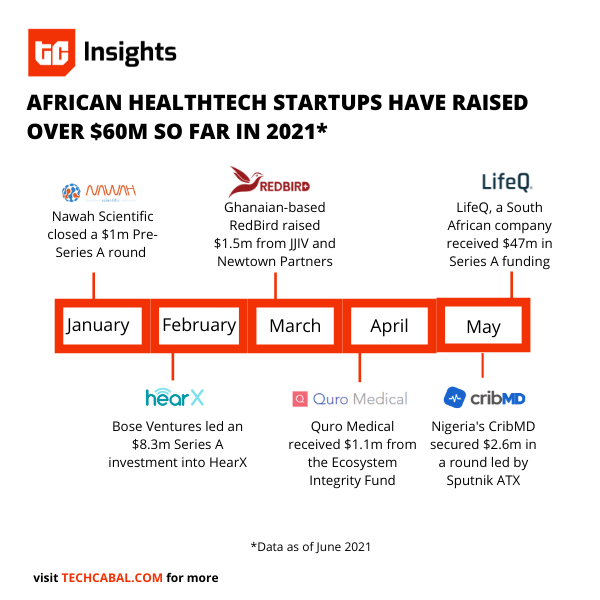 Boluwatife Sanwo/TC Insights
As with mPharma, new innovative health startups are relying on VC funding to rise to popular consciousness.
To close the $66bn-a-year gap, the PE and VC community will be expected to invest larger checks at a faster rate in more startups. COVID-19, while an unfortunate pandemic, has spurred a welcome boost in visibility for healthcare startups.
But tough questions will have to be asked of governments as well. Are they doing their bit, at least keeping to what they agreed to 20 years ago? The first quarter of the 21st Century has only four years before it ends. Tick… Tock.
Get TechCabal's Healthtech report here . Also, send us all your custom research requests using this link .
Thank you for reading the Next Wave. Please share today's edition with your network on WhatsApp, Telegram and other platforms, and reply to this email to let us know what we can be better at.


Subscribe to our TC Daily Newsletter to receive all the technology and business stories you need each weekday at 7 AM (WAT).
Follow TechCabal on Twitter, Instagram, Facebook, and LinkedIn to stay engaged in our real-time conversations on tech and innovation in Africa.
– Alexander O. Onukwue, Staff Writer, TechCabal
Sign up for The Next Wave
by TechCabal
This is a Test Email only.

This message was sent for the sole purpose of testing a draft message.

Get the best African tech newsletters in your inbox