INTERNATIONAL WOMEN'S DAY
IN PARTNERSHIP WITH

Here's a simple, but sad truth: There are women working in technology, but there aren't enough of them sitting at the proverbial table.
Although some progress has been made, there is still work to be done.
But our focus today isn't to point out the problems. Our focus today is on celebrating women who are making great strides in tech and tech-enabled companies. Some of them are founders, mentors, leaders, mothers, and influencers.
The women we selected and interviewed are inspiring and making an impact in their individual communities and countries. This list isn't exhaustive and we are open to including more African women in tech in the near future.
Know any influential African woman in tech? Send me an email with her name and profile: koromone@bigcabal.com
I hope you enjoy this special edition of our TC Daily newsletter.
PARTNER CONTENT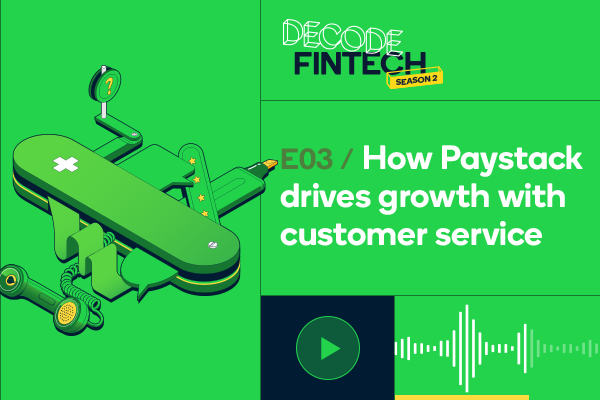 Want to get smarter about fintech in Africa? Listen to the Decode Fintech Podcast by Paystack!
How do you leverage customer interactions to grow your business? In this episode, Paystack's Customer Success Manager shares the key metrics he tracks, the tools his team uses, how to turn unhappy customers into brand advocates, and how Paystack uses customer service data to improve the product.
▶️ Listen to Episode 3: How Paystack Drives Growth with Customer Service
TechCabal's African Women in Tech – IWD 2021 Edition
Tomilola Adedeji is a product manager at Prophius. She's big on self-improvement and her big audacious career goal is to get better at her craft.

Her power advice: Have a thick skin, Be ready for the unexpected, Have fun while at it!

Adeola Adeyemi is a Product Manager at Global Accelerex who wants to give young girls the opportunity to be grounded in tech before university.

Her advice: Stay curious. Read, take courses, ask questions, learn. Network – find like minded people who are in similar roles in the industry and interact with them. Join/follow groups (Twitter, LinkedIn) and attend physical or virtual hangouts.

Omotayo Dada believes that you don't have to be great to be successful. At work, she thinks that some important skills are explaining extensively, listening carefully and understanding before responding.

Misan Omagbitse is the Head of People at Sparkle. She hasn't had a linear career path but right now, her focus is to lead Sparkle through its hyper growth phases.

Her power advice: Have a growth mindset -the world of tech is constantly changing and the ability to keep up with the times is an asset.

Odebiyi Taibat is a Software Quality Assurance Engineer at Global Accelerex Limited.

Her power advice: listen carefully, pay attention and get feedback.

Peggy Orji is a business development at Sparkle and is working to become the go-to-person/guru for all things Business Development. She'd also like to be recognized as a thought leader in the world of sales and marketing.

Peggy has dreams of being awarded the Nobel Prize in her lifetime.

Farida Bedwei is the CEO at Byte the Bits and her goal is to make the company the data powerhouse of Africa.

When we asked her about the challenges African women face in tech, she had this to say: "I actually haven't faced any of these challenges. I had bigger issues to deal with being a DISABLED woman in tech and even then I can't say I was discriminated against."

Ibukun Akinnawo is someone who believes in equal pay for women at work. She's the launch Lead at West Africa at pawaPay and in five years, she wants to be the COO at a Fortune 500 company. Look out!

She feels the most powerful when she's got some great makeup on and a good outfit.

Who is an Ops Ninja you ask? That's Chioma Uzo Kalu's role at the fintech startup, Sparkle.

What's her big audacious career goal? "To build the network and learning space for operational leaders in tech. It is very easy to find spaces to level up when it comes to tech. However, there isn't that space that exists for ops-focused enthusiasts to learn from each other, network and scale their career. I want to build that network."

Oluchi Okafor wants to build Multimix Academy– which is sort of an Udemy for Nigeria.

Her advice to women who want to pivot into tech: Better now than later. The opportunities for women are endless. The avenues for using techs are beyond just creating financial solutions. Use tech in your current field and soar with it.

Can a business exist without good marketing? Ndali Gregory-Ozegbe is the Head of Marketing at Nabsack, an app that lets you earn money as you declutter. Ndali is completing a masters degree in Marketing Analytics. She's looking forward to her newly-learned skills to continue to take her company to greater heights.

Tskane Ngoepe is Chief of staff at M-KOPA and honestly, she loves to kick ass at work.

She has an excellent spirit and feels the most energized when she's working hard and giving her work the utmost attention.

When you think about your career path, what comes to mind? For Tobi Lufadeju, who is currently a product manager at Reliance HMO, after a few years in her field, she expects to transition to CoS and COO roles. Her dream is to support startups of different sizes as they navigate different fundraising rounds. She also wants to influence Nigeria's education policy as a high-ranking public servant.

Princess Oti is the COO and co-founder at Kaoshi, the world's first global financial data exchange that provides a comprehensive financial profile on immigrants.

Her big audacious goal: For now, it's to build the world's first 'Linkedln' of financial profiles, which uses open banking and data for cross border financial services in a way it has never been used before.

Folayemi Agusto is the co-founder and CEO at Tix Africa.

Her advice to women in tech: "Project confidence in all that you do, from your emails to meetings, share your point of view and your work without hesitation. Be kind, not cause you're a woman or anything. Having to work everyday is already annoying enough, no need to make it worse by being the office jerk. Finally, don't get stuck doing the things they like to assign to women in the office like keeping track of team birthday's, ordering snacks, and planning team hangouts. That should be rotated between everyone."

Tomisin is a Devs Ops Software Test Automation Engineer at Librestream. Her long-standing goal is to be a lead developer in Facebook, Apple, Amazon, Netflix or Google (FAANG). We know she's going to land a role there pretty soon, so keep an eye out for her.

If she runs into you in the elevator, she's going to tell you to be courageous and prepare for the worst.