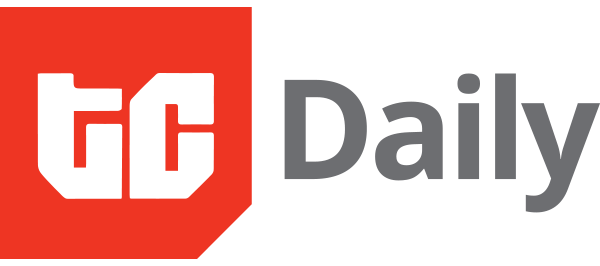 Good morning☀️
We know that sometimes our emails don't land in your inbox.
Here's how you can resolve this issue. If you can't find an edition of TC Daily, check your spam folder or promotions tab and mark this address as 'not spam' or move the email to primary/inbox.
.
In today's edition:
Samsung's decision
Trump vs Joe Biden
VC Investment in Africa
My Life in Tech
Mumspring: Fostering safe pregnancy
Ditching power adapter and earphones
"It really comes down to one word: courage. The courage to move on, do something new, that betters all of us. And our team has tremendous courage."
Backstory: Four years ago, Apple caused quite a stir with this statement when it announced it would be removing the headphone jack from its phones. A move that ushered the launch of the wireless Airpods.
Other phone makers, most notably, Sony and Nokia removed the headphone jack from their high-end phones the next year and others have continued to do so since then.
Also…
In September 2020, during the launch of the iPhone 12, Apple announced that it would not be including power adapters with their newest iphone. The reason: It's better for the environment, and there's a likelihood that a customer already has an Apple power adapter charger at home.
At first, the likes of Xiaomi and Samsung made fun of Apple for that decision, but with time they copied the move. Xiaomi, for instance, has since launched the Mi 11, which doesn't ship with a charger; however, customers in its native China can choose a full package at no extra cost.
Recently, Samsung launched the S21 series. And as expected, it will not be distributed with chargers and earphones. And this isn't going to be limited to high-end devices only, but eventually, all future Samsung devices will ship without an adapter and earphones.
Big Picture: The environmental reasoning behind shipping fewer unnecessary components with phones is fairly sound but it's also a cost-saving technique. I wonder if many smartphone users are ready to embrace the switch-up.
Anyway, I hope you find the courage to adjust your expectations.
Trump vs Joe Biden: Chinese investment in African tech
In January 2020, Nigerian healthcare startup LifeBank became the first company to receive investment under a new maternal care initiative introduced by the US International Development Finance Corporation (DFC).
LifeBank's 24/7 blood supply business met the three-fold criteria for a DFC-funded company; it is a revenue-generating enterprise filling a developmental gap in an emerging market.
Using these investment criteria, the DFC has gone on to invest in multiple sectors across Africa.
In addition to LifeBank, DFC's Africa portfolio includes Twiga Foods, Copia (both Kenyan startups), and investments in Angola, Botswana, Chad, Egypt, Gabon, Morocco, Mozambique, Namibia, Senegal, South Africa, and Uganda.
The DFC has a $75 billion investment target for people in less developed economies, through loans and direct equity funding into startups, funding VC funds, and providing technical support.
But America is changing hands to an ideologically different leadership. How will this influence the DFC's future approach and impact in Africa?
Read: The Trump administration countered Chinese investment in African tech. Will Biden continue?
Meet the Top African countries for VC Investments 2020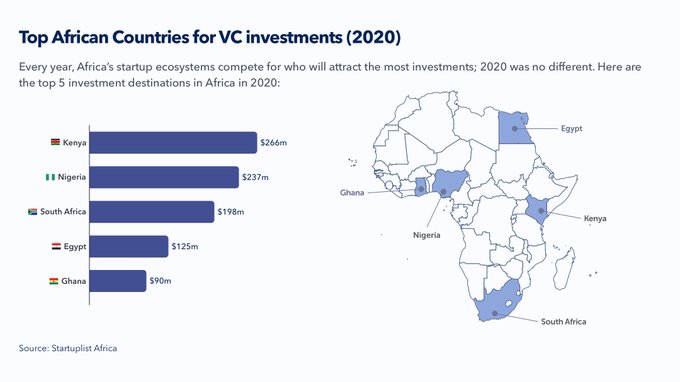 As we look back at 2020 we get a better sense of what happened. According to a preliminary overview report about startup investments in Africa by Startup list Africa, Kenya was the leading destination for startup investments in Africa in 2020.
Kenya led the way with $266 million (Kshs 29.3 billion) in investments ahead of Nigeria ($237 million), South Africa ($198 million), Egypt ($125 million) and Ghana ($90 million).
Meet the top 5 countries
Kenya: With over 25% of total fundings in Africa, Kenya holds the number one spot on the list. Companies like Greenlight Planet, Twiga Foods, Komaza and others were the top-funded companies. And the renewable energy industry received the most funding.
Nigeria:
Nigeria was the 2nd leading destination for VC investments in Africa having over 23% share of total investments in African startups. These investments were in companies like Lumos, Flutterwave, InfraCredit, Accelerex, and 54Gene. Here, the fintech industry was in the lead.
South Africa: South Africa came 3rd with over 19% share of total deals. Companies like Jumo, Skynamo, Aerobotics and others closed the top deals. The software-as-a-service industry got the most funding.
Egypt: Egypt claimed over 12% share of total investments in Africa. With companies like Vezeeta, Swvl, and Halan being responsible for the top deals. Here, the logistics industry got the most funding.
Ghana: Ghana ended the year as the 5th most attractive startup ecosystem claiming 9% share of overall funding in Africa. Chipper Cash closed multiple rounds within the year including a $30m investment which had Jeff Bezos as one of the investors. Like Nigeria, the fintech industry secured the most funding.
Meet the woman reducing lead-acid waste; one battery at a time.
We've heard all kinds of excuses from our tailors. Some seem plausible, others make you want to sit on the floor and cry. When Marly Diallo was in Accra for a business trip a few years ago, her trusted tailor, who had delayed on a dress, told her it was because there hadn't been any light. She knew he was telling the truth.
A few years after, having continued to experience power outages during her travels across the continent and most notably in Lagos, Nigeria, she started BRT energy.
She explains her decision to start her company by saying, "When I started to think of the next phase for me, I wanted to do something that would impact lives. Here I was selling software to large banks in a place where there was an energy problem and many were unbanked or using only mobile money. I started to draw parallels between energy, banking, and mobile network providers." she said, "It's one thing to provide software but if there's no energy, how will people use it?"
In this article, Edwin talks to Mary Diallo on her journey building BRT energy and the battery conversation in Africa.
Read: Meet the woman reducing lead-acid waste; one battery at a time
Mumspring: Fostering safe pregnancy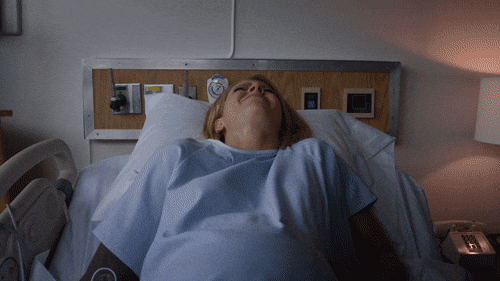 Over a million African babies are estimated to die in the first 4 weeks of birth. But most of them, especially those born in rural areas, die at home, uncounted, and invisible to public healthcare and access to basic information.
In this article, Bright talks about the Mumspring app which was built to provide personal, stage by stage pregnancy information to pregnant women and guide them through the first three years of their after-birth journey.
Read: Mumsping, the health tech platform fostering safe pregnancy for African women
What else we're reading
Written by – Daniel Adeyemi
Edited by – Edwin Madu
Advertise
To advertise with us, send an email to