Jay-Z feat. Jack D
FEBRUARY 14, 2021
This newsletter is a weekly in-depth analysis of tech and innovation in Africa that will serve as a post-pandemic guide.

Subscribe here

to get it directly in your inbox every Sunday at 3 pm WAT
" Don't you ever for a second get to thinking you're irreplaceable" Beyoncé, Irreplaceable (2006)
Our thoughts are with those who didn't get flowers today. It's not you, it's them. Or the delivery guy.
Look around though; there are many things to love and be captivated by. Have you not been fascinated by the resilience of Nigeria's cryptocurrency community? Recent restrictions threaten to bury crypto exchanges, but these innovators want to prove that they are seeds.
What's the secret sauce?
Before we get into the weeds, please subscribe to this newsletter if you haven't already. Catch up on Africa's place in the agritech world in last week's edition. As always, feel free to reply to this email with your feedback, and spread the Next Wave in your circles!
Wondering how best you can maximize your DStv subscription? Think DStv app!
The app is a convenient way to stream live TV, catch up on your favorite series, movies & sports highlights or download to watch offline.
With one subscription, an entire family can simultaneously watch different things on multiple devices.
Download from the play store or Apple store or visit now.dstv.com for more info.
Retreat, Reinforce
In December 2015, the Central Bank of Kenya sent a memo to CEOs of commercial banks, mortgage firms and microfinance banks. It read:
"Transactions in virtual currencies are largely untraceable and anonymous making them susceptible to abuse by criminals in money laundering and financing of terrorism."
The CBK forbade Kenyan financial institutions from opening accounts "for any person dealing in virtual currencies such as Bitcoin." Offending banks would face "remedial action."
Nigeria's official relationship with crypto is now at this prohibitive phase. Crypto exchanges have moved their money from banks, and said banks are closing some customer accounts, apparently to rid the financial system of this untraceable, anonymous virus.
[ Read: Nigerian banks begin closing customer accounts with history of crypto transactions ]
Cryptocurrencies are not banned in Nigeria. You'd have to outlaw crypto exchanges and shut down the internet to achieve that. But the Central Bank of Nigeria has undercut the nascent sector by refusing to let trucks (i.e. crypto exchanges like BuyCoins, Bundle, Luno and Quidax) deliver goods to consumers through its bridges.
What are these stranded truck owners doing? They are looking to Kenya for fuel.
Michael Kimani, co-founder and chairman of the Blockchain Association in Kenya, anticipates two things: Nigerian crypto companies will diversify their risk by opening operations in East Africa, and will adopt the peer-to-peer system.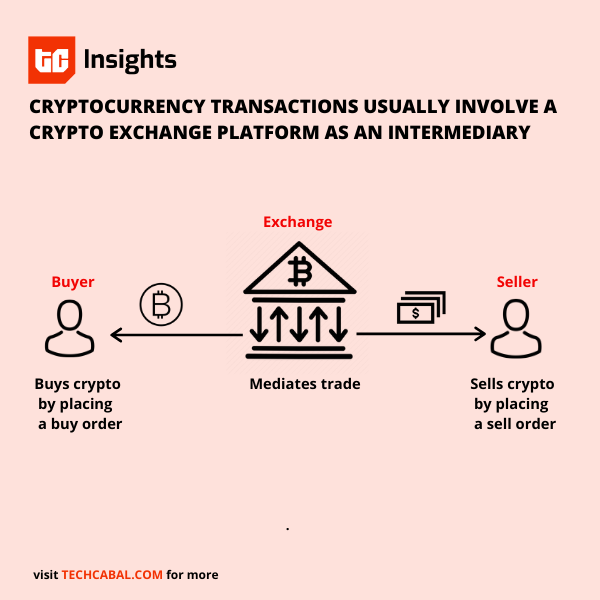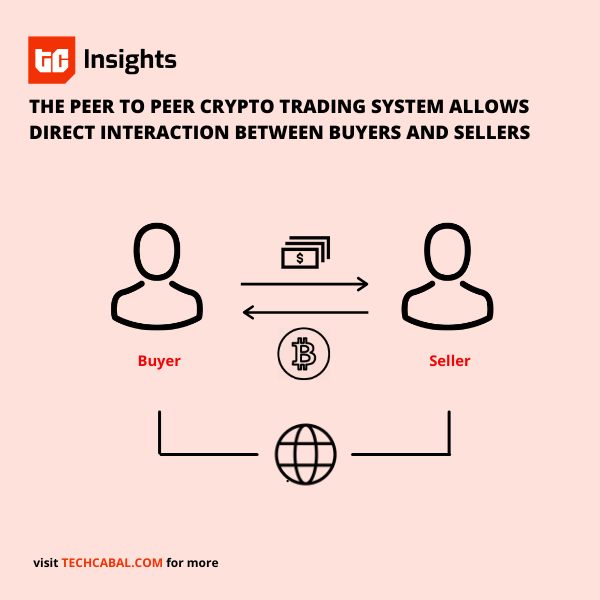 A summary of how peer-to-peer crypto transactions work:
Individual buyers and sellers transfer fiat currency to each other through normal bank accounts, the normal way a lady pays for her Valentine date's flowers through a bank transfer to a florist.

Crypto exchanges act as mediators guaranteeing the exchange of cash for crypto between buyer and seller.
Kimani says this works well in Kenya. The exchanges eliminate the dangers associated with peer-to-peer transactions done on WhatsApp or Telegram by demanding some Know Your Customer (KYC) information. Product teams at Nigerian crypto exchanges are finalising plans to roll out peer-to-peer systems in the coming weeks.

Guess what? This pivot will be more of a headache for central banks in Africa.
When crypto transactions moved between exchanges and commercial banks, regulators could at least track what was being traded and by whom. Bitcoin transactions were never as anonymous as the CBK and CBN alarmed them to be because exchanges had
significant KYC requirements
.
Power to the exchanges
But by pushing these transactions to the peer-to-peer realm, crypto exchanges become more powerful than they were before, accelerating enthusiasm for these digital currencies.
Eloho Omame, managing director of Endeavor Nigeria, tells me cryptocurrency adoption raises important monetary issues. However, she appreciates the emergence of cryptocurrencies as alternative and safe stores of value.
She also appreciates the role Nigeria is playing in defining the future of digital currencies and blockchain technology. Rather than see this as a threat, Omame believes the opportunity should be eagerly and constructively embraced by the central bank.
After cryptocurrency was discussed last week at the Nigerian Senate, Ray Youssef, CEO of Paxful which operates in Kenya, ecstatically declared: "Bitcoin has disrupted an entire nation" and that "The whole world will follow Nigeria!"

Nigeria is far from being disrupted from Bitcoin at this time. Also,
The whole world will follow Nigeria
is probably too dreamy. Nigeria has… issues.
I imagine the war rooms at Nigeria's crypto exchanges are motivated by these ambitious, definitive statements.
The CBN might not send them flowers or chocolate. The last week may have caused an identity crisis, a mild panic about being dumped. But expect them to reinforce from this retreat. And when they do, to never look back.
Jay-Z feat. Jack Dorsey

Hip hop's first billionaire and the guy who founded Twitter are teaming up to make Bitcoin the currency of the internet. They've launched a fund for this purpose with 500 BTC; $23.6 million as of Friday. As Daniel reports, Africa and India are of particular interest to Jay and Jack.

Love don't cost a thing? Well don't conclude until you've heard from those who are in long-distance relationships. How has technology helped such love birds? Edwin asked African couples.
Also, read last week's My Life In Tech on two Nigerian brothers who built Trueflutter, a matchmaking app. What's the difference between a matchmaking and dating app? Good question. Read on.
THE CRYSTAL BALL
Every week, we ask our readers, stakeholders, and operators in Africa's tech ecosystem what they think the new normal looks like. We share their thoughts and opinions in this section of The Next Wave. You can share yours with us via email [koromone@bigcabal.com] with 'The Crystal Ball' in the subject line.
Growing crypto
"There's no better place for bitcoin to thrive than Africa," says Chris Maurice, CEO and Co-founder of Yellow Card, a Nigerian-based crypto exchange. Maurice believes that the use of bitcoin for payments and savings is why crypto will go mainstream in Africa long before the West or any other part of the world.

While the average world ownership of crypto is 7%, South Africa and Nigeria have an ownership rate of 13% and 7% respectively. This high ownership rate and the large volume traded annually presents Africa as a large market for crypto exchange startups. Prominent among them are Luno, Quidax, BuyCoins, Huobi, and Coindirect.
But nothing says belief in Africa more than having one of the world's largest coin exchange companies shine its light on Africa.
Binance, a Malta-based crypto exchange with a 24-hr trading volume of over $26m, entered the African market in 2020. According to the CEO and founder, Changpeng Zhao, Africa's population numbers make it a very important market for the global cryptocurrency industry. The company believes that it has the opportunity to provide alternative financial services to a large number of people simultaneously.
For this reason, it established peer-to-peer trading in Africa, and from March 2020 till February 2021, it has recorded $320m in transactions in Africa. Binance allows customers from Nigeria, South Africa, Kenya, Ghana, Morocco, Uganda to purchase cryptocurrencies using their local currencies with zero transaction fees.
Regardless of these achievements, it has faced major challenges. Most notable is the instability of cryptocurrency regulations. Most governments believe that they could be used to fund terrorism therefore they consider them a security threat.
Binance CEO Changpeng Zhao thinks that these obstacles are surmountable. According to him, the COVID-19 pandemic made Africans explore new uses for cryptocurrencies and he strongly believes that the desire to seek for more cashless alternatives will be a contributing factor to Binance's successful expansion into other African countries.
Overcoming the obstacles to the growth of cryptocurrencies on the continent will not happen overnight. But even though it's a long road, Africa plays such a key role that Zhao believes it will be a highly rewarding one. "If you want business results in the next 6 months, then maybe Africa is not the best place to spend money on. We are looking at this at a 5, 10, 15 year horizon, and I think Africa is going to be huge.", he says.
Get TechCabal's reports here and send us your custom research requests via tcinsights@bigcabal.com.
Written by Michelle Adesina
Thank you for taking the time to read today's edition of The Next Wave. Remember to stay safe when you are out in public places– protect others by wearing your mask and sanitizing your hands.
Looking for the most comprehensive roundup of technology, life and business stories on the continent? Subscribe to our TC Daily Newsletter and have leading news delivered to your inbox every weekday at 7 AM (WAT).
Follow TechCabal on Twitter, Instagram, Facebook, and LinkedIn to stay updated on tech and innovation in Africa.
– Alexander O. Onukwue, Staff Writer, TechCabal
Sign up for The Next Wave
by TechCabal
This is a Test Email only.

This message was sent for the sole purpose of testing a draft message.