$3 million. 13 deals.
MAY 23, 2021
This newsletter is a weekly in-depth analysis of tech and innovation in Africa that will serve as a post-pandemic guide.

Subscribe here

to get it directly in your inbox every Sunday at 3 pm WAT
On May 19, Bitcoin sank to $32,000, Ethereum $2,000 and Dogecoin $0.22. It was the low point of a slump that started ten days earlier. Cue the anxious tweets in the cryptoverse.
No sell-off panic followed, however. By now, crypto holders know that a dip – steep loss in value – is a phase. Prices have ticked upwards and nerves are calmer.
One person has asked me if BTC will now accelerate to $70k – this expectation has been existing since March. But the more pertinent question is this: how soon should holders prepare to relive that weary Wednesday?
The Flutterwave Mobile app, the app that turns any smartphone into a mobile POS is now redefining commerce. The Flutterwave Mobile App makes it super convenient for anyone to take their business with them anywhere, anytime. Learn how you can take your business anywhere, anytime

here.
Game of coins
Bitcoin was designed to obey the wisdom of the crowd.
Coded by its creators to have a fixed volume and be printed at a certain pace, it would be free from the pressure of central banks and governments. Being decentralized, it would be more stable than government-issued currencies, eventually becoming adopted for peer-to-peer transactions everywhere.
But the 12-year history of Bitcoin has been about how holders navigate stunning highs and depressing lows, not the transactions they make with it.
On the 1st of January 2017, BTC was worth $998. By December 17, it shot up to nearly $20,000. Five days later, it dipped below $12,000. Between February and March 2020, BTC swung from a five-month high of $10,500 to a $3,850 low.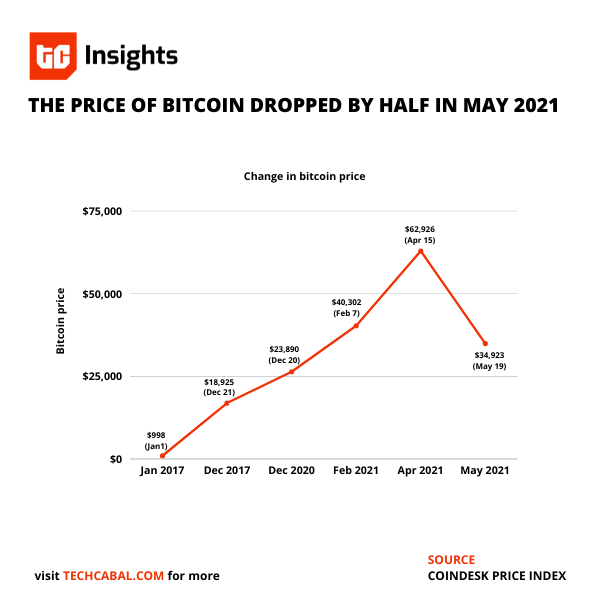 Boluwatife Sanwo/TC Insights
But some factors – including the Federal Reserve's COVID-induced printing of dollars – fuelled an all-time peak of $28,000 by December 2020. As countries (like Nigeria, South Africa and Turkey) with weaker currencies copied the Fed's money printing, Bitcoin surged in 2021: crossing $30,000 in January, $50,000 in February and $60,000 in March.
African investors and traders welcomed this rise as a hedge against assets depreciating in local currencies and dollar inflation. But last week provided a reality check on that expectation: crypto is also vulnerable to winds that affect fiat money.
The dip morphed into a crash after China's State Council signalled a crackdown on Bitcoin mining and trading. China is the 2nd largest economy in the world, with unrivalled cultural and political power to march their 1.4 billion citizens in order and swing global markets. Also, most Bitcoin has been mined in China for the last four years.
To be sure, China wants to harness blockchain technology. They are piloting a digital currency that they hope will be the future of money. But they are actively opposed to crypto for reasons that will be familiar to Kenyans, Nigerians and others in Africa whose central banks have opposed crypto: the problem of transactions not being traceable.
Over the coming weeks and months, we will know exactly what China will do to stifle crypto.
"The case for Bitcoin hasn't changed," Eloho Omame, co-founder of FirstCheck Africa, a Nigerian startup investment firm, told TechCabal in the wake of the recent crash.
"Crypto markets were always volatile. So honestly it's not fun, but it's not unexpected. Long term, I'm bullish. So it doesn't really matter what happens today."
But the warning is clear: the crypto crowd may be confident about the future, but pressure from unique actors like China will have significant sway.
In 2019, Conflux Network, a blockchain technology company set base in Africa and has grown a community of over 5000 people across Africa.
Conflux Network is looking for Ambassadors for Content creation, Developers and Community Managers in Kenya, Ghana & South Africa. Become one today.
Early-stage investment firm Future Africa says it has invested $3 million in 13 startups in 2021. They have now invested more money this year than in 2020, exceeding the $1 million they set out to invest in women-led startups at the begining of the year. They are aiming higher for the rest of the year.
Find out how Acumen, an early-stage non-profit fund with investments in Nigeria, Ghana, Sierra Leone, Kenya, Rwanda, Uganda, Ethiopia and Tanzania, is providing "patient capital" for companies tackling poverty.
Theme: The Innovators' Journey
Venue: Iganmu, Lagos Nigeria.

Confirmed guests include the CEO of Flutterwave, VFD Bank as well as Co-founders of Kuda, Cowrywise and Tremendoc.
Thank you for reading the Next Wave today. Keep safe when you are out in public places – protect others by wearing your mask and sanitizing your hands.
Subscribe to our TC Daily Newsletter to receive all the technology and business stories you need each weekday at 7 AM (WAT).
Follow TechCabal on Twitter, Instagram, Facebook, and LinkedIn to stay engaged in our real-time conversations on tech and innovation in Africa.
– Alexander O. Onukwue, Staff Writer, TechCabal
Sign up for The Next Wave
by TechCabal
This is a Test Email only.

This message was sent for the sole purpose of testing a draft message.

Get the best African tech newsletters in your inbox