Hey there! Here's everything interesting in African technology today. Not subscribed? Click here to get this goodness in your mailbox every day at 7am (GMT + 1).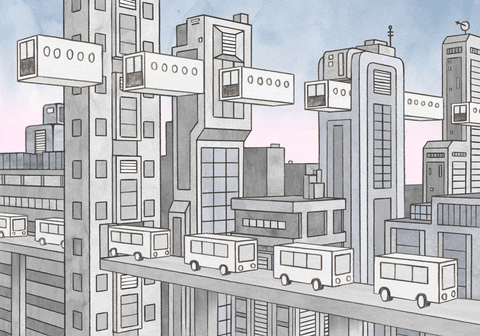 Good morning.
1. What is public transport? – It may seem like a weird question to ask, but the events of yesterday have made it necessary. A Nigerian Twitter user, @AyoNaledi said: "Honestly can't remember the last time I took public transport. Uber is comfortable. Not about being proud. Comfort is key.", and people like this guy, driven more by their need to rack up retweets than anything else came to inform her that Uber is public transport, and those viewpoints got a surprising amount of momentum. Their arguments seemed to be that since your Uber car is not being driven by someone you're familiar with, and is available to be used by the general public, that makes it public transport.
+ To be clear, I think that's the silliest thing I've heard in a long time and I feel a little sad that I need to say it. Calling Uber public transportation because it's available to the general public or because you don't know the people offering the service means that Cafe Neo's Iced Caramel is public nutrition, or KFC's soggy fries are public infrastructure because they are available to everyone. Let's be serious, please.
+ And now, an insightful comment from our in-house transportation expert AKA Ajala travel all over the world, Bankole Oluwafemi, "As an expert Danfo and Uber rider, I should comment on this matter. But that inbox will not read itself."
+ This hilarious skit by BellaRose Okojie about characters you can only experience in a Danfo bus. LOL.
2. Windfall in Edutech – Things are looking up for education technology companies across the continent, as a) GetSmarter, a South African startup that unbundles short courses from top ranking universities just got acquired by 2U for $103 million in cash and equity, ? b) the GSMA, through its Ecosystem Accelerator Fund, has awarded Prepclass a grant of $322,000, and as one of the conditions of the grant, their investors will pitch in another $160,000, ? and c) Rwanda's government wants to digitize half of the public school curriculum by June. ??
3. Calm thee thy tits, for cash is still king – This Interswitch tweet from October 2015 did rounds on Nigerian Tech Twitter yesterday, because CEO Mitchell Elegbe was quoted as saying Quickteller has (had?) more than 3 million active users. It caught attention because in January last year, at Africabeta, Ope Adeoye, PM of Quickteller at the time, said there were about 200,000 unique cards used online per month – a stat that has been parroted by everyone trying to illustrate how tiny the Nigerian e-commerce market is. So, what's with the big discrepancy? The simple explanation, of course, is that Quickteller has multiple channels (web, native app, USSD, ATM, etc), and Quickteller.com is just one of them. The 3 million stat was a cumulation of both online and (the much more popular) offline channels. Calm thee thy tits, for cash is still king. ? ?
+ Worth noting that it's been > a year since then, and while Nigerian commerce is still very much offline, I think that number is now between 300k – 400k. Don't quote me, though. ?
+ Meanwhile, MasterCard has funded research that found that South Africans lose $1.7 billion per year to the indirect costs of using cash like theft, and transportation, How…convenient. ?
4. Do glass ceilings taste nicer than wooden ones? – Don't answer that. Here is Darlene Menzies, one of the six women recently recognized by the World Economic Forum as Africa's breakthrough female entrepreneurs, reportedly saying that women starting businesses today have advantages over men because of the sheer number of support programs available to them. (A point of view you may find reasonable if you're tone-deaf, but is absolutely ludicrous when you consider the systemic inequalities that made those support programs necessary in the first place. DPMO.) ?
+ The other women on the list are Oluwayimika Angel Adelaja of Fresh Direct Nigeria ??, Temie Giwa-Tuboson of LifeBank ??, Aisha Pandor of SweepSouth ??, Esther Karwera of Akorion ??, and Charity Wanjiku of Strauss Energy Ltd ??. GSMA's feature about them is worth a read. Link. ??
+ Speaking of which…someone compiled a collection of 1000 non-cisgender men to counter the lazy excuse that there aren't qualified women to speak on science and technology panels, and guess who made the list? Our own Ire Aderinokun, of course. ?
5. While you were asleep – GoodsMart, an online grocery service in Egypt raised $750,000. They let users place grocery orders till 9pm everyday, and deliver the packages overnight. C'est interessant. cc Supermart.ng, Gloo.ng, and most recently, Konga. ?
6. Found this service by Etisalat that lets you collect change from merchants across Nigeria while performing cash transactions. All the money is then aggregated into a wallet tied to your phone number, from which you can transfer to anyone, with which you can receive, and from which you can withdraw to your bank account. Not sure if or when it launched, but it's called eChange (oh my god how creativveeee ?), and I reckon it's one of the first implementations of telco-led mobile money in Nigeria. (Remember, in December last year, the CBN said Nigeria will adopt telco-led mobile money ? at some [undefined] point in the future…) ??
+ Hat tip: Tolu Adetula
7. Upward Integration? Safaricom is rolling out 500,000 POS machines and launching an MPesa  NFC (Near-Field Communication) card. Hmm
---
Innovators working on justice and legal issues worldwide can apply for up to 20,000 EUR in equity-free grant money as part of the HiiL Justice Accelerator's Innovating Justice Challenge here. The Call for Applications, which opened March 1 and remains open until June 30, encourages two types of application: first, startups with an idea and team may apply for funding in the Call for Innovations; second, individuals without a team or idea can apply for the Call for Talent.
---
These are also interesting…
+ This graphic showing the most googled personalities in every country in Africa. Of course, Nigeria's is Buhari (considering everyone's been looking for him since he started working remotely), but it's Messi and Ronaldo for pretty much everyone else. ?
+ You're not going to believe what I'm about to tell you. Link. ?
+ This great read from HBR about how Chinese investment is reshaping Africa. Link. ?
+ Not to be outdone by Derin, Asemota's latest column for The Guardian is about how partnerships between fintech startups and Microfinance institutions will help move then needle for Nigerian Financial Services. It also features Alat and Piggybank, the usual suspects. Good read for the most part. Link. ???
+ Banks vs. Startups: Who leads Africa's fintech innovation? Link. (Hat tip: Nanjira) ?
+ Ethel Cofie's op-ed for CNN, about the African women breaking down tech barriers. Link. ??‍?‍?
+ Anyone want to say congrats to the dev team at Hotels.ng for pushing a full rewrite of their platform without any downtime? Just me? Okay. ?
+ Shehu Awwal, a former Hotels.ng intern, just won ₦300,000 in a hacking competition. Link.
+ From HR to Hollywood: Sola Akindolu, founder of Revova, is hallucinating about being a movie director. E be like say this startup thing don dey hard. ?
---
Chatclass NG is offering a social media management course where participants will learn how to develop and execute social media strategies that deliver results. The program will feature thorough masterclasses to help you launch and grow a successful social media career. School's already in session for April but you can register for May classes which begin on the 7th here.
---
Upcoming events
Lagos: HiiL Information Session, May 4th. Link
Lagos: KPMG Africa Cyber Security Conference 2017, May 4th. Link
Lagos: Nigerian Technical Cyber-Security Conference (NaijaSecCon '17), May 4th.
Ibadan: IWD '17 – Telling Our Story, May 6th. Link
London: CcHub Diaspora Challenge, May 6th. Link
Want to see your event in here? Add your event
---
We're done.
Thanks for reading