Staking more on BetKing
JUNE 13, 2021
This newsletter is a weekly in-depth analysis of tech and innovation in Africa that will serve as a post-pandemic guide.

Subscribe here

to get it directly in your inbox every Sunday at 3 pm WAT
Contrary to the wishes of a certain government, I spent a majority of my time, in the past week, on Twitter.
It's where I follow football conversations (thoughts with Christian Eriksen and family) and get a chance to mock G7 charades. But there was an extra reason this past week: observe Nigerian startups perform under a new limitation.
Frequency and volume of tweets reduced across the board, but work at most startups is on track as usual. "Twitter is a useful channel for customer issues but we have several channels – Facebook, Call centre, email and Instagram," Chijoke Dozie, CEO of Carbon, told me.
So I turned to the venture capital community and surveyed their mood so far. As a supplement, this Next Wave edition is a quick factsheet on the risk landscape in Nigeria today.
The Flutterwave Mobile app, the app that turns any smartphone into a mobile POS is now redefining commerce. The Flutterwave Mobile App makes it super convenient for anyone to take their business with them anywhere, anytime. Learn how you can take your business anywhere, anytime

here.
Keeping Faith

Venture capitalists invest in startups by taking a share from founders. Unlike a bank that gives loans, VCs have no guarantee they will get their money back. But they trust their due diligence, hop on the train and expect multiples of their initial capital, within five to ten years.
The key factor in this expedition is risk. Startups and investors live and die by the risks they anticipate and mitigate. So what are the risks in Nigeria?
"Political and regulatory risks are top of the concerns in addition to currency devaluation risk," says Rena Yoneyama, managing partner at Samurai Ventures.
Investors consider barriers to growth and customer acquisition. "The attractiveness of these companies to investors is often reliant on their ability to achieve scale and attract customers quickly," says Maelis Carraro, Catalyst Fund's Managing Director.
These views match available survey data.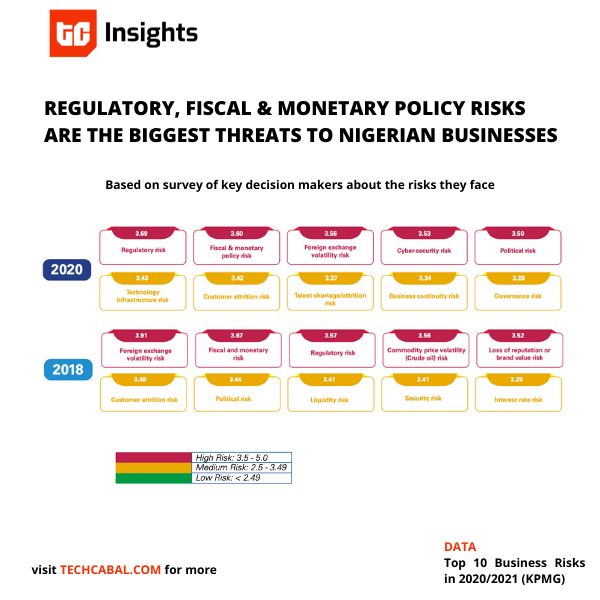 Olanrewaju Odunowo/TC Insights
According to KPMG, the 2020/21 top 10 business risks in Nigeria are as follows: regulatory; financial and monetary policy; foreign exchange volatility; cybersecurity; political; technology infrastructure; customer attrition; talent shortage/attrition; business continuity; governance.
Regulatory risk has become more prominent over time. It was number 7 in KPMG's 2016 survey and rose to third place in 2018. It's now the number one risk for private businesses, especially those in financial services.
The risk hierarchy for tech, media and telecommunications companies differs from the general top 10 above. Customer attrition, cybersecurity and foreign exchange volatility risks are most pressing, while regulatory risk was ranked sixth.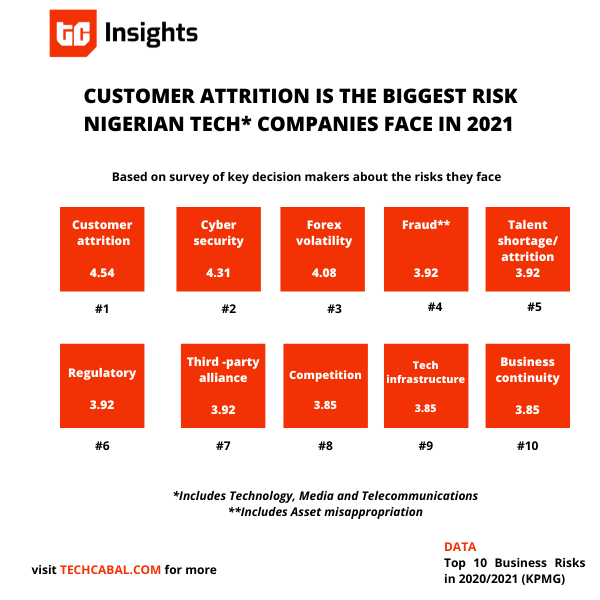 Olanrewaju Odunowo/TC Insights
Let's clarify that 77% of the companies in this survey have an annual turnover of over $15 million and 48% have over 300 employees. Most Nigerian startups are not at these marks, hence the risk maps may not be an exact match.
However, these signposts give a sense of what VC's can expect when they plan to invest with the goal of reaping multimillion-dollar returns.
AfricArena projects that VC funding in Africa will be between $2.25 billion and $2.8 billion this year. That will be a huge recovery from the $1.43 million in 2020 (according to Partech).
Nigeria raised $307 million of that 2020 total. Will the country retain its perch at the top with a putatively riskier environment?
With Egypt on the march, perhaps not. But Yoneyama, who has a fresh $18 million to invest across Africa, says "market potential and tenacity of Nigerian founders surpass such risks, so we'll keep investing."
And why not? Twitter bans and hostile governments come and go but the optimism for enterprise in Africa will only increase. Exits are not yet commonplace but one or two ventures have paid dividend. But those rewards are for those who, looking at the risks above, still dive in.
Thank you for reading the Next Wave. Please share today's edition with your network on WhatsApp, Telegram and other platforms, and let us know what we can be better at.


Subscribe to our TC Daily Newsletter to receive all the technology and business stories you need each weekday at 7 AM (WAT).
Follow TechCabal on Twitter, Instagram, Facebook, and LinkedIn to stay engaged in our real-time conversations on tech and innovation in Africa.
– Alexander O. Onukwue, Staff Writer, TechCabal
Sign up for The Next Wave
by TechCabal
This is a Test Email only.

This message was sent for the sole purpose of testing a draft message.

Get the best African tech newsletters in your inbox